What Is Going on With Quanergy Systems (QNGY) Stock Today?
Source: T. Schneider / Shutterstock.com
The stock market is moving nicely for the bulls on Friday, with the S&P 500 nearing a 2% gain on the day. However, that's nothing compared to Quanergy Systems (NYSE:QNGY), which is up over 170% in the session. At today's high, QNGY stock was up a whopping 245%.
Why is the stock rallying so much? It simply seems to be a squeeze trade lately.
If you haven't heard of this stock, don't worry. With a market capitalization of just $20 million, most investors haven't heard of Quanergy Systems.
According to the company:
"Quanergy offers a high-performance smart perception LiDAR platform designed to accelerate the automation of key business processes to increase productivity, efficiency, and safety of our 3D world."
The fact that it's a lidar company makes it even more surprising for today's move, given that tech hasn't been performing that well lately.
Can Investors Count on QNGY Stock Going Forward?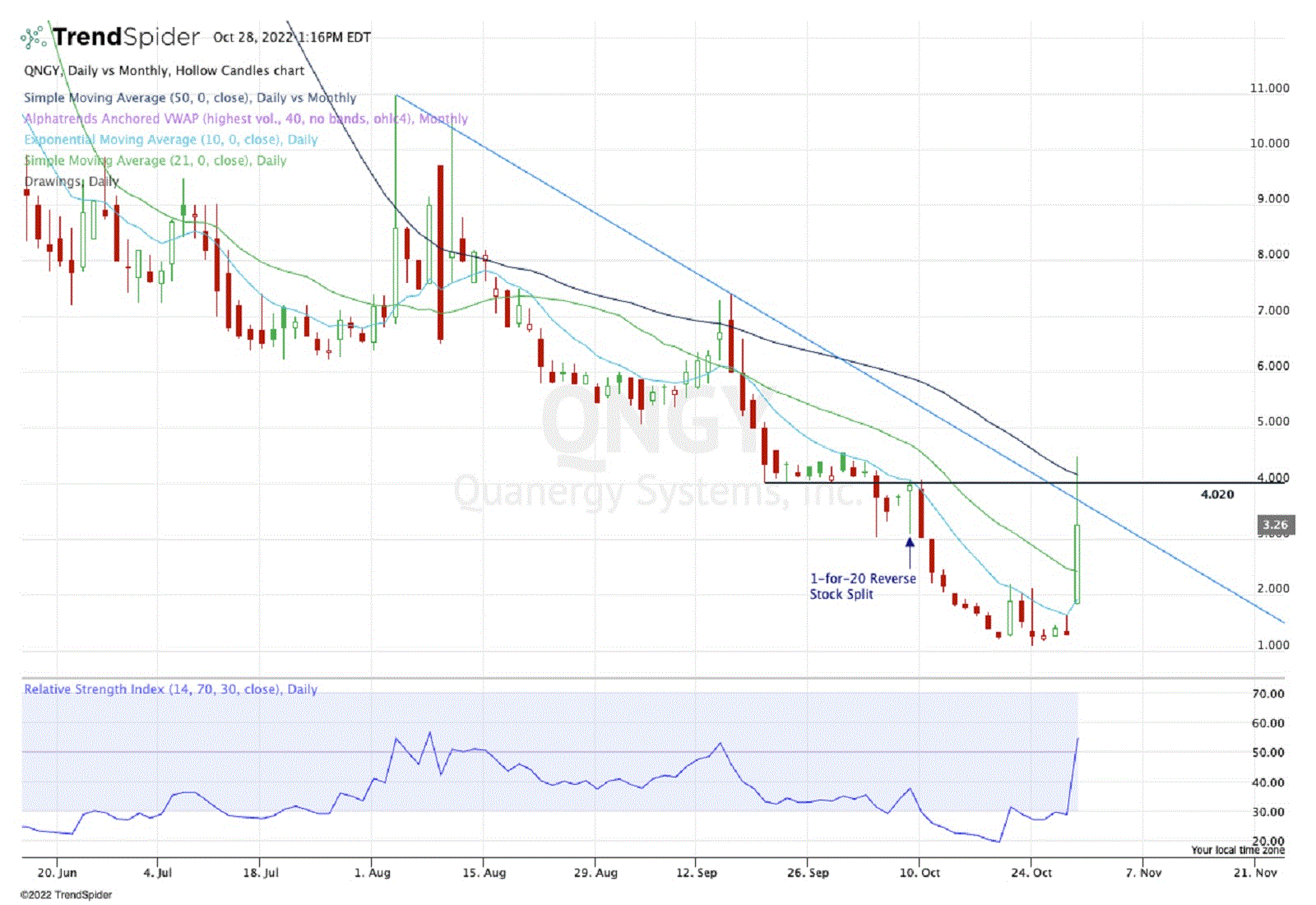 View the full infographic
Perhaps QNGY stock could have a bit more fuel left in the tank, but I don't know that it's one we can depend on.
First, shares have already faded considerably from today's high. In fact, just with that observation alone, the stock is down almost 30% from Friday's high.
Second, QNGY stock is fresh off of a 1-for-20 reverse stock split. Companies that are doing well don't resort to reverse stock splits, which are generally done to satisfy minimum stock price requirements to remain on the stock exchange.
That points to a problem with the stock and/or the business, which is not something we like to see, especially during a bear market.
Tech stocks have struggled enough this year to the point where we can buy high-quality businesses at a large discount without having to resort to pure speculation. So while the share price could continue to push higher, you may also notice it's struggling with the $4 level and the declining 50-day moving average.
Above those measures and the squeeze trade may go higher, but below these measures and investors may want to exercise a bit of caution.
On Penny Stocks and Low-Volume Stocks: With only the rarest exceptions, InvestorPlace does not publish commentary about companies that have a market cap of less than $100 million or trade less than 100,000 shares each day. That's because these "penny stocks" are frequently the playground for scam artists and market manipulators. If we ever do publish commentary on a low-volume stock that may be affected by our commentary, we demand that InvestorPlace.com's writers disclose this fact and warn readers of the risks. 
Read More: Penny Stocks — How to Profit Without Getting Scammed
On the date of publication, Bret Kenwell did not have (either directly or indirectly) any positions in the securities mentioned in this article. The opinions expressed in this article are those of the writer, subject to the InvestorPlace.com Publishing Guidelines.
Products You May Like