How to Find the Pockets of Growth In a Down Market
It's not a stock market. It's a market of stocks.
Come by our InvestorPlace offices sometime and you may well hear someone say that at some point. We talk about it often, and it's true.
It's easy to think of "the market" as one entity thanks to indexes like the S&P 500, the NASDAQ, or the Wilshire 5000. They distill everything down to a single number.
But there are more than 6,000 publicly traded companies just in the U.S. (and more than 58,000 around the world, according to the World Federation of Exchanges), which means there is a lot going on underneath those index numbers every day. Individual stocks are moving up, down and all around.
That's why investors can outperform "the market" and grow their wealth faster… by focusing on the best stocks in the market instead of the market as a whole.
Even in a year as bad as 2022 has been for "the market," there are still individual stocks that have done very well. Not as many as in a good year, but there are pockets of profits.
The key is to find those pockets and the best-performing stocks consistently over time. They are out there, and there is a way to find them.
Let's talk about where they are right now.
Energizing the Entire Market
We've seen this "market of stocks" idea in dramatic terms here in 2022. It's been a lousy year for the market, but drilling down even to the sector level reveals the strongest pocket of profits.
The S&P 500 has 11 sectors, and one of my favorite economists, Ed Yardeni, published this chart showing how they performed through the first three quarters of the year…
That's pretty depressing, with one exception. Energy is the only one of the 11 sectors that is up this year, and that dotted red line isn't just barely above the others. It's way above. The Energy sector soared more than 60% in the first three quarters of 2022. The S&P 500 itself lost 19%, and the worst-performing sector – Communications Services – plummeted 40%.
These are all stocks in the market, but the results couldn't be more different.
I fully expect energy stocks to continue their outperformance in the coming months. In fact, I expect energy stocks will soon account for 30% of the S&P 500, up from the current 6%. I'm confident of that because managers of funds that track certain weightings, sectors and indexes will be "forced" to buy more energy stocks as they grow sales and earnings, and their stocks rise in value.
This is already happening. Energy accounted for less than 2% of the S&P 500 only a year ago, while technology accounted for 48%. By early 2025, I would not be surprised if energy stocks account for 30% of the S&P 500 and technology stocks fall to just over 30%. The tracking managers will systematically buy energy stocks and sell tech stocks as the sector weights in the S&P 500 shift over the next couple of years.
It All Comes Down to This
Energy earnings are propping up overall earnings right now, and dramatically so. According to FactSet, excluding Energy, the S&P 500's earnings would decline 5.1% in the third quarter. But thanks to the Energy sector's whopping 134.1% earnings growth, the S&P 500's earnings are currently expected to come in at 2.2%.
Here are two examples of what I mean by big earnings growth:
Exxon Mobil Corp. (XOM) is the largest oil and gas company in the U.S. with a $456 billion market capitalization. It's harder for bigger companies to move the needle, but in its latest report last week, Exxon exceeded already sky-high expectations.
Thanks to higher energy prices, the oil giant reported record profits of nearly $20 billion. In one quarter! The company earned $4.45 per share, nearly triple the same quarter a year ago and beating analysts' expectations for $3.86 per share by more than 15%. The stock is up around 90% this year.
Chevron Corp. (CVX) is another giant with a nearly $350 billion market cap. At the end of the second quarter when data was last reported, Chevron was Warren Buffett's third-largest holding at Berkshire Hathaway Inc. (BRK-A), making up 8.7% of the portfolio and worth nearly $30 billion.
The third quarter marked Chevron's second-best quarter ever with net profits of $11 billion, trailing only the second quarter. Earnings grew 88% over last year to $5.56 per share (adjusted), beating Wall Street's estimate of $4.86 by 15%. Its stock is up 60% this year.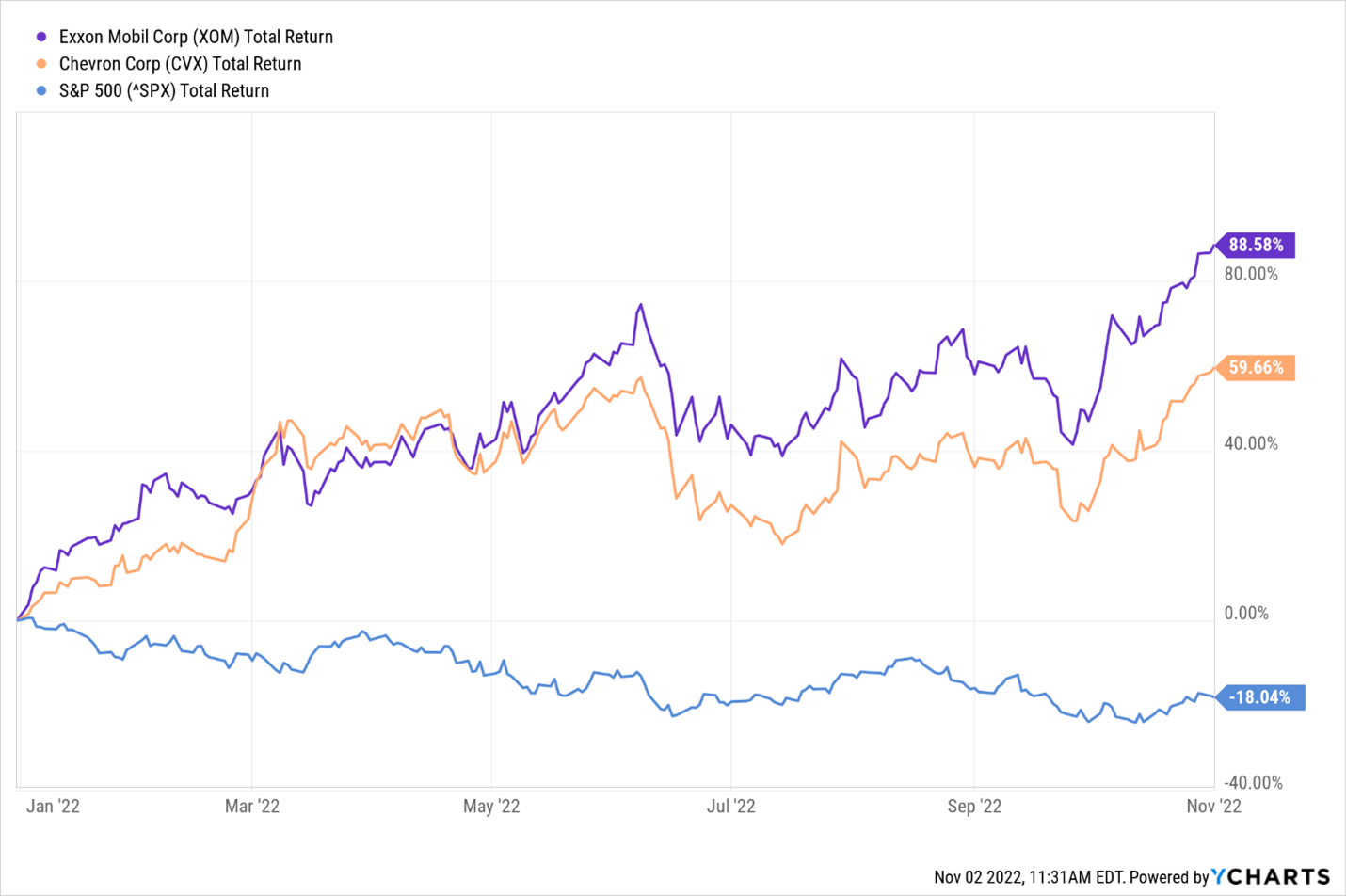 The bottom line: If you want to make real money in the stock market, it's all about finding the best stocks – not buying the market.
But how do you find the best ones? Well, that's where my Project Oracle comes in. Simply put, it's a quantitative stock-picking system that finds the big winners – regardless of the market's moves.
For example… Project Oracle pinpointed…
XPEL, Inc. (XPEL), and it soared 225% while the market tanked…
Himax Technologies, Inc. (HIMX), which climbed 109%…
And Futu Holdings Limited (FUTU), which jumped 83%.
And it did this all while the market was falling off a cliff.
I will reveal exactly how Project Oracle works on Tuesday, November 8, in a special briefing. I'll also share my No. 1 stock – ticker symbol and all – absolutely free. This company is shaping up to be a big winner in the electric vehicle (EV) space.
To be among the first to receive this exclusive briefing, sign up now.
Sincerely,
Louis Navellier
The Editor hereby discloses that as of the date of this email, the Editor, directly or indirectly, owns the following securities that are the subject of the commentary, analysis, opinions, advice, or recommendations in, or which are otherwise mentioned in, the essay set forth below:
Exxon Mobil Corp. (XOM)
Products You May Like