Energy Companies Report Blowout Earnings
While October hosts the spookiest holiday of the year – Halloween – it's been anything but spooky on Wall Street. In fact, it's been nearly all treats and no tricks this month. As of this writing, the S&P 500 is up nearly 9% and the Dow is up about 14% in October so far. And even with scary earnings reports from the big tech flagships this week, the tech-heavy NASDAQ is still up more than 4%.
The market's strength can be largely attributed to the third-quarter earnings season. This past week about a third of the of companies in the S&P 500 released their earnings, making it arguably the most significant week for earnings so far this season.
Not surprisingly, the sweetest earnings are coming from the energy sector. According to FactSet, it is still anticipated to have the best results of all 11 S&P 500 sectors, with 116% average earnings growth in the third quarter. I should also add that the energy sector is one of only three out of the 11 sectors that are reporting year-over-year revenue growth, with a 14.6% increase up from 8.9% last year.
As you can see in the chart below, the Energy Select Sector SPDR Fund (XLE), which tracks energy stocks, is up an incredible 65% year-to-date, while the S&P 500 is down 19% over the same time period.
As someone who's been very bullish on the energy sector this year, I've been watching earnings closely. And a few big energy giants – Shell plc (NYSE:SHEL), Chevron Corporation (NYSE:CVX), and Exxon Mobil Corporation (NYSE:XOM) – reported their earnings this week.
So, in today's Market 360, let's see how their numbers stack up.
Shell plc (NYSE:SHEL) reported its earnings on Thursday, October 27. Due to a weaker liquified natural gas (LNG) trading and refining, the company saw its earnings dip from the record high of $11.5 billion in the second quarter to $9.45 billion in the third quarter. Still, Shell's earnings have more than doubled year-over-year, with the company posting a $4.1 billion profit in the third quarter of 2021. The company is now on track to post a record profit in fiscal year 2022 that exceeds its previous record of $31.0 billion, as it has already recorded earnings of $30.5 billion in the first nine months of the year.
Given the ongoing strength of its business, Shell plans to reward its shareholders. It plans to buyback another $4.0 billion in shares in the final months of 2022, as well as increase its quarterly dividend by 15%. It expects to pay a fourth-quarter dividend of $0.25 per share.
Chevron Corporation (NYSE:CVX) released its earnings on Friday, October 28. Earnings of $5.78 per share topped forecasts for $4.81, and revenue came in at $11.2 billion. Earnings increased 81% year-over-year from $3.19 per share in and revenue increased 83% year-over-year from $6.1 billion.
Chevron Chief Executive Michael Wirth noted that the company "delivered another quarter of strong financial performance," as this is the company's second-highest quarterly profit ever.
Exxon Mobil Corporation (NYSE:XOM) also announced its earnings on Friday, October 28. For the quarter, earnings increased a whopping 198% year-over-year to $4.68 per share, beating estimates of $3.79 per share and climbing up from $1.57 per share a year ago. Adjusted earnings of $19.7 billion rose from $6.8 billion reported in the third quarter of 2022.
"Where others pulled back in the face of uncertainty and a historic slowdown, retreating and retrenching, this company moved forward, continuing to invest," Chief Executive Darren Woods said.
He also said that the company's "strong third-quarter results reflect the hard work of our people to invest in and build businesses critical to meeting the demand we see today."
SHEL, CVX and XOM rallied nicely in the wake of their strong earnings results, with the stocks up about 6%, 3% and 4%, respectively, with all outpacing the NASDAQ's 2% increase and SHEL outpacing the S&P 500's 4% gain for the week.
Investors who had followed my Portfolio Grader would've known to consider these stocks well ahead of their reports. As you can see in the Report Card below, they all hold Buy ratings right now: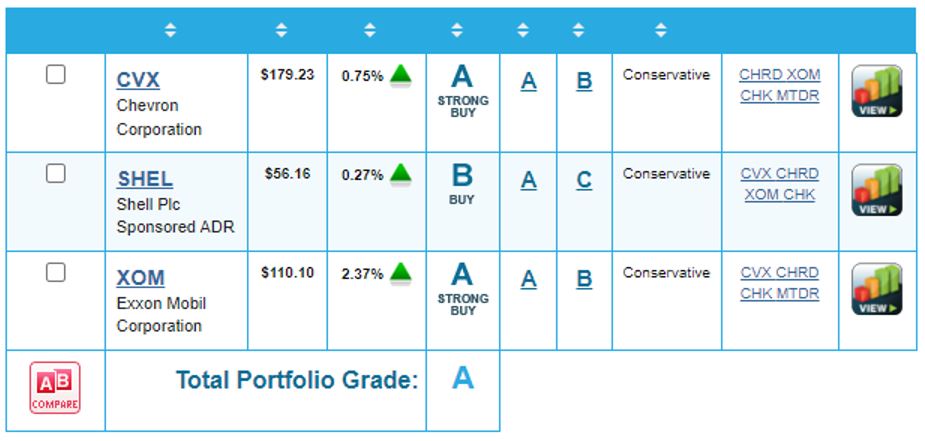 Now, 75 more energy companies are set to release their third-quarter earnings next week, including more big names like BP p.l.c. (BP), Sunoco LP (SUN), and ConocoPhillips (COP).
Here's a quick preview of their results:
BP p.l.c. (NYSE:BP) is scheduled to release its third-quarter earnings on Tuesday, November 1. Analysts expect  earnings of $2.00 per share and revenue of $59.29 billion.
Sunoco LP (NYSE:SUN) will also report its earnings on Tuesday, November 1. Analysts expect earnings of $1.09 per share and revenue of $6.25 billion.
ConocoPhillips (NYSE:COP) will release its earnings Thursday, November 3. Analysts expect  earnings of $3.44 per share and revenue of $18.83 billion.
So, are these companies good buys ahead of their earnings reports? Well, according to my Portfolio Grader, that's a big "yes."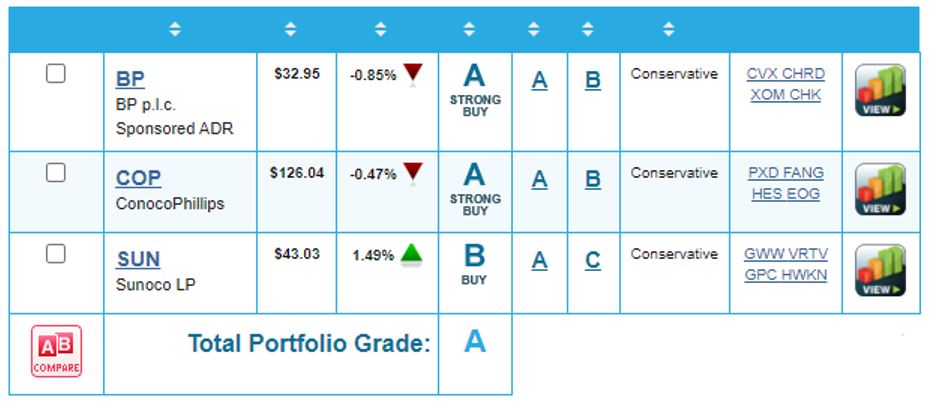 Again, as you can see in the Report Card above, BP, SUN and COP also receive high ratings.
The fact is the silver lining, critical path I see for investors right now is energy plays.  As I discussed in Thursday's Market 360 article, Wall Street's anti-fossil fuel and ESG push drove energy stocks down to less than 2% of the S&P 500 a year ago.
Today, energy stocks are the best-performing sector and now represent approximately 6% of the S&P 500. Within two years, I expect energy stocks will be 30% of the S&P 500 and appreciate 100% per year for the next couple years because the institutional buying pressure should remain persistent and relentless.
The reality is energy earnings should remain high going forward, especially as demand for energy goes up in the spring – when seasonal demand naturally increases. By then, oil should be at $120 per barrel.
This is why I've been spending the past year loading up on energy stocks in Growth Investor. I want to ensure that we're invested in the companies that will profit from the high energy demand and institutional buying pressure. These stocks are an oasis for investors seeking steady sales and earnings growth.
If you want to position your portfolio for big profits, become a member of Growth Investor. I just released my Growth Investor Monthly Issue for November yesterday evening, which included a brand-new energy stock that offers the perfect blend of income and growth, as well as my latest Top Stocks list. If you join me at Growth Investor today, you'll be able to invest in these names while they still trade below my buy limits.
Sincerely,
Louis Navellier
P.S. Worried about gas prices? Here's some bad news: Gas prices could soar even higher in the months ahead – with Goldman Sachs believing we could see oil soar past $200 a barrel.
I just stepped forward to help people navigate a world of $200 gas. Get your portfolio ready with my latest picks.
The Editor hereby discloses that as of the date of this email, the Editor, directly or indirectly, owns the following securities that are the subject of the commentary, analysis, opinions, advice, or recommendations in, or which are otherwise mentioned in, the essay set forth below:
Shell plc (NYSE:SHEL), ConocoPhillips (NYSE:COP), Exxon Mobil Corporation (NYSE:XOM), and BP p.l.c. (NYSE:BP)
Products You May Like