Did the Bear Market Just End?
Dave Gilbert here, Editor of Smart Money.
We talked last time about how there is a day or a month for just about everything. And while this isn't an official designation, October has a reputation for being the market-bottom month.
Six of the 17 bear markets since 1946 (after World War II) ended in October. Here's a look at them as tweeted by Ryan Detrick, Chief Market Strategist at Carson Group…
With 35% of the last 17 bear markets ending in October, its reputation as a bear-market killer is somewhat deserved.
We now have one trading day left in the month – on Halloween, at that! – so the big question is whether this October will live up to that reputation.
As Eric Fry told us in a team meeting earlier this week, there are encouraging signs, discouraging signs, and wild cards.
So, what's an investor to do?
---
Crypto Millionaire Warns: This Is Crypto's "Final Phase"
Charlie Shrem bought Bitcoin at $5 – now he's issuing an urgent warning about the future of the crypto markets. Details here. 
---
History's Mixed Signals
It's been a volatile month, but the October trend is encouraging.
The Nasdaq languished somewhat, but both the S&P 500 and Dow Jones Industrial Average have posted strong months. The Dow's 11.5% pop is more than the average gain for an entire year.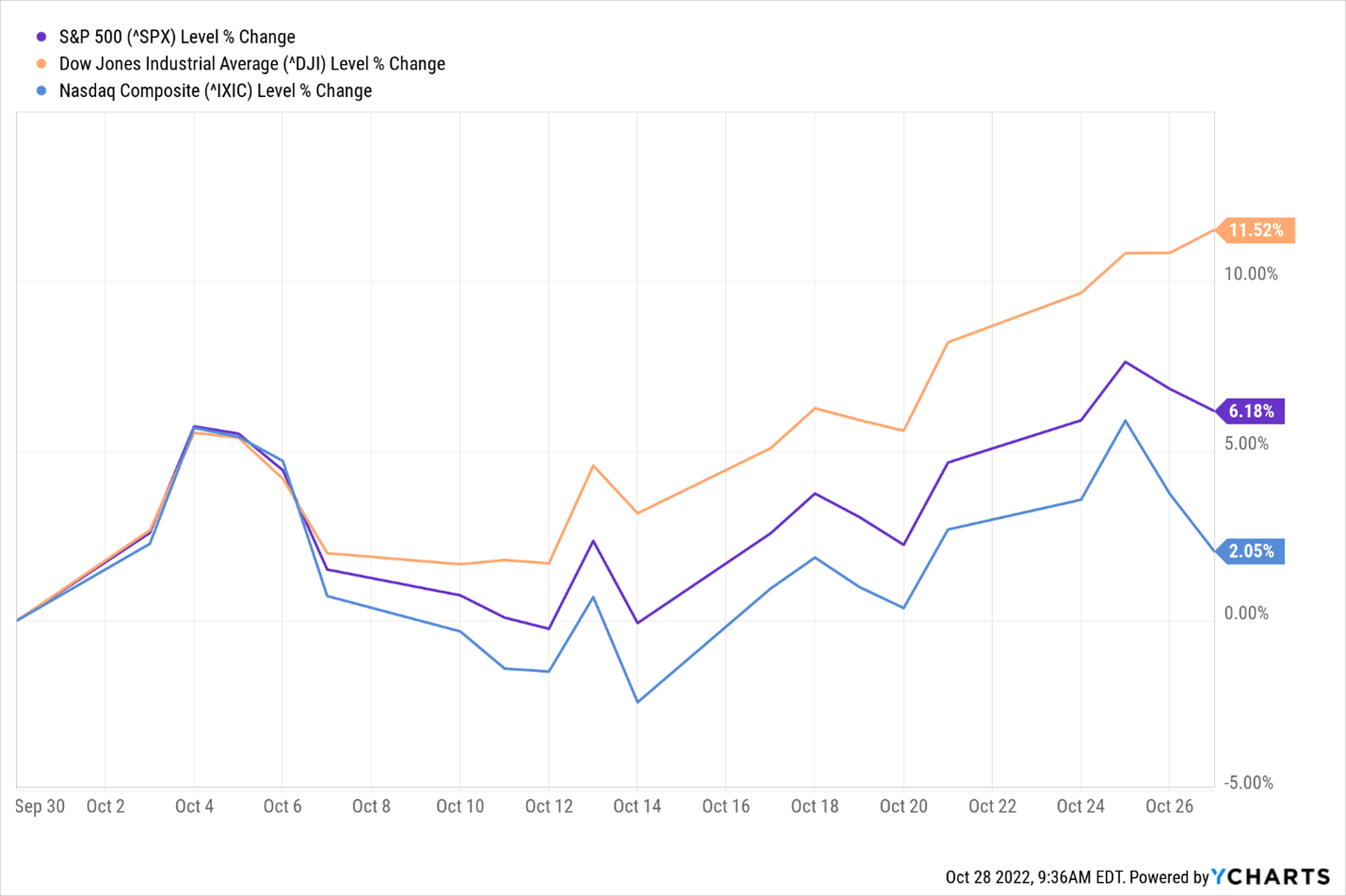 Then again, we've seen this movie before, and it didn't end so well last time. The markets rallied over the summer only to fall to new lows earlier this month.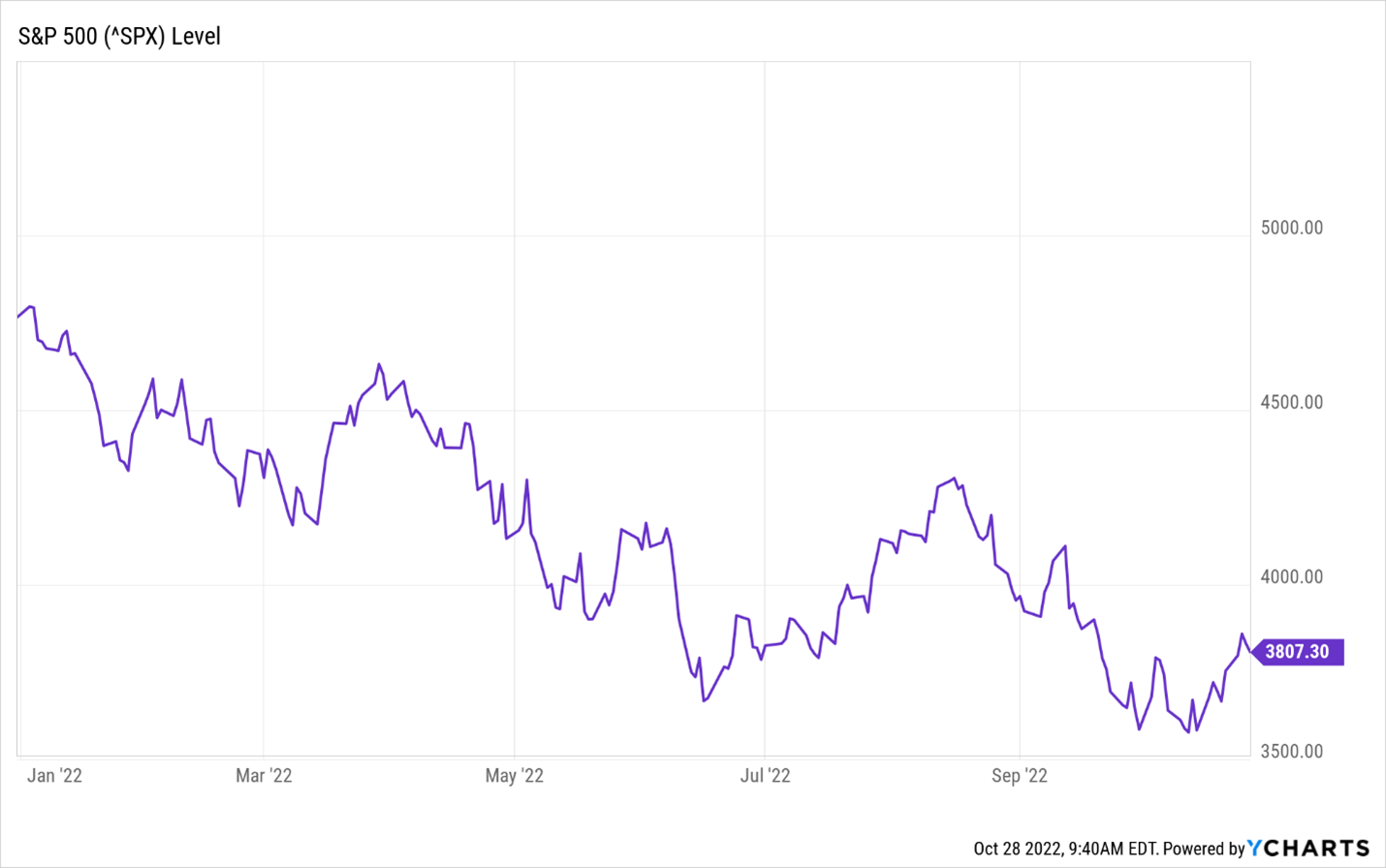 Could that have been the end of the bear market?
Sure, but we can only know that in hindsight, so the best way to answer the question is to look at the past and the present.
Looking at the past is a little more discouraging. Yes, bear markets end in October one-third of the time, but as Eric told us, bear markets more commonly undo the previous parabolic move higher. By that measure, there could be more downside ahead based on the move higher from 2020.
But while such a retracement is often the case, it is not by any means a given. Other historical patterns paint a more favorable picture.
For example, we are heading into the strongest three months of the year for stocks – November, December, and January. The only month historically stronger is April. Adherents to the "sell in May and go away" school of investing, which most experienced investors are not, would tell you that now is the time to buy back into stocks if you sold in May.
In addition, we are now in the strongest time of the presidential cycle in the market. Over the last 15 midterm elections, which goes back 40 years, the S&P 500 has averaged 16.3% gains.
What To Do Now
Historical patterns give us some mixed signals, so let's look at current conditions.
Eric's view is that the "washout phase" is likely behind us — when investors sell anything and everything that isn't nailed down. That doesn't mean the market has made a definitive bottom, but odds are improving that the worst of the selling is behind us.
Eric highlighted four other "good news" factors in his analysis…
We've talked about this before, but there are still record levels of cash on the sidelines. Individuals have record cash in money-market funds, checking accounts, and savings accounts. Corporations have record war chests of cash, and so do hedge funds.

That is not sustainable. Investors are itching to get that cash off the sidelines and into the game, and that's a lot of built-up firepower to be unleashed as they do.

Incredibly low valuations are attracting some of that cash. You can invest in some high-quality blue-chip companies whose stocks are trading at just 3X or 4X earnings. That's unheard of except in the rarest of circumstances, like right now. Not only is a lot of the downside risk already priced in, but upside potential in the recovery becomes even greater.

I am also encouraged by signs that the dollar is weakening. I know currency valuation isn't very exciting, but a weaker dollar helps companies that sell their products or services internationally. This will ultimately help their earnings and their stock prices.

I would also point to investor sentiment, which has been historically low. Sentiment is one of those contrarian indicators. By definition, the more extreme sentiment gets – bullish or bearish – the closer we are to a reversal. That can take time, but it is ultimately a positive indicator for the market.
Eric's conclusion is that the market has made "enough of a bottom" that investors can do very well buying quality stocks now. There are some attractive bargains out there at current prices.
They could go lower after you buy them, but that is always a possibility. And right now, there is a lot less downside risk in many individual stocks than there was earlier this year or even a couple of weeks ago.
We've talked about this before, but it's important, so we'll give the last word to Eric. In the current Investment Report issue, he told his readers…
I expect the stock market to post a strongly positive return between today and the end of the current rate-hike cycle.

To be sure, investing during a deep bear market is a messy, chaotic, and nerve-racking endeavor. But these gut-wrenching moments are the ones that provide outstanding gains… eventually.

1,000% gainers take root in these kinds of markets, even though they might take their sweet time germinating and blossoming.
Eric's newest recommendation in Investment Report is a good example of a blue-chip stock that's cheap right now. It is the largest U.S.-based producer in its industry, and it is trading for just five times this year's likely earnings. From this low valuation, Eric sees substantial upside potential – both over the next few months and over the next few years.
Whether October ends up being a bear-market killer or not, you can slay your own bear by positioning yourself those kinds of profits in the future.
Regards,
Dave
P.S. In this tough year for investors, Eric's focus on megatrends, valuation, and managing risk have helped his Investment Report portfolio remain positive.
His latest recommendation that's now buyable at such a low valuation is still in his designated buy range. Click here to learn more about how you can join Fry's Investment Report today to get the full story on this stock as well as access to all of his current recommendations.
Products You May Like